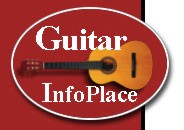 — NEWS · UPDATES —
---
— New page added to the website — "YouTube's Best" featuring some of the best performances of brazilian guitar music by professional and amateur musicians from many countries. The fact that you can see it while you hear it may be very educational to all of you who make this genre part of your repertoire.

— New link on "Links" page will introduce you to "Brazilian Guitar Forum" — the best public forum for musicians interested in Brazilian guitar music. The moderator of the forum Eugenio states:"This forum was created to stimulate debates, promotion, appreciation and cultural awareness of the Brazilian guitar around the world."
As the members participating in the forum are not only newcomers to this popular music genre, but also many famous musicians, this forum has soon become a real treasury of information about interpretation, techniques and generally about everything concerning the guitar music of Brazil. Recommended!
Need a Shopping Cart and BUY NOW buttons to let you sell downloads and tangible goods on your website or eBay?
Only $5/month !
Can You beat this price ?!



CLICK HERE FOR MORE

You can sell ebooks, sell mp3 tracks and albums, sell software, icons, fonts, artwork, phone cards, event tickets, cds, posters, books, t-shirts and almost everything else you want to sell.

Brazilian Guitar Music...
...and in fact, most South American music has powerful appeal worldwide for guitar players and listeners alike. If you belong to this group... you've come to the right place!
It's not always easy to find recordings and printed music in this category. Most of the top performing artists rely on their own transcriptions and arrangements — and not many of them publish, in print, their original works faithful to their recorded versions. The rest of the printed music in this field are usually second-hand transcriptions or arrangements. The quality and difficulty level varies a lot, making them a dubious source for your own performance material. The challenge to create a good performance quality arrangement is not always in everyone's possibilities, and what's left is to painstakingly write down accurate transcriptions of the interpretation by your favourite player.
Through my long years of interest in this beautiful music genre (including visits to Brazil), I have accumulated a vast library of original scores of brazilian guitar music (most of them out of print) and also a substantial library of my own transcriptions and arrangements (still waiting for a friendly publisher willing to make them available to public). If you have ever tried that process yourself, you know what a time consuming effort this can be - but the hi-tech gadgets and computer software not available years back - have made it easier and more accurate now. As most of the music in this category is covered by original copyright and I have not obtained necessary permissions, please do not ask me to offer my library online... but what I can offer you are tips and advice on how to make one yourself using the available recordings, computer software, good ear and lot of patience.
The resources included on this website are therefore dedicated to Brazilian & Latin American guitar music, its recordings, sheet music, transcription resources and its interpretation. Any suggestions and feed back will be appreciated.
Jaro Paul N.

Music Sheets The South American continent became a melting pot of various cultures that contributed to the unique character of its music. *) European folk roots and classical music were influenced by African and native Indian rhythms, followed later by jazz. All of this created an amazing variety of musical forms and styles, and the guitar as an affordable harmonic and melodic instrument presented itself as the most natural expression of the new music. It's only natural that many players and composers should have left their indelible fingerprints. The facts speak for themselves... the guitar works of Agustin Barrios-Mangore (Paraguay), Heitor Villa-Lobos (Brazil), Antonio Lauro (Venezuela) -- just to name a few - became standards of classical guitar repertoire.
Our selection of sheet music tries to offer pretty much what's available on the reachable market at the moment. On our Brazilian Guitar Music Page you can choose from various compilations or by selecting the name of the artist/composer you can access detailed list of their works.
On our South-American Guitar Music Page you can select from the similarly organized guitar music originated from other countries of the South American continent.
*) Recommended reading: Brazilian guitar


CD Selection The same as above. Our selection offers much of what's currently available (most of the CDs have online sound file samples), and in the case of out of stock items, it's worth checking the offers of used, second hand CDs.
On our Brazilian Guitar Music CD Page you'll find the works of Ernesto Nazareth, João Pernambuco, Pixinguinha, Anibal Augusto Sardinha-Garoto, Laurindo Almeida, Luiz Bonfa, Baden Powell de Aquino, Paulinho Nogueira, Toquinho, Sebastião Tapajos, Marco Pereira, Paulo Bellinati, Carlos Barbosa-Lima ... performed by themselves or interpreted by others.
On our Latin American Guitar Music CD Page, you'll find the works of Agustin Barrios, Antonio Lauro, Manuel Ponce, Hector Ayala, Ernesto Cordero, Antonio Piazolla, Ernesto Lecuona, Jorge Cardoso, Jorge Morel ... interpreted by John Williams, Turibio Santos, Jorge Morel, Gerald Garcia, Ricardo Cobo, David Russell and many others.


Guitars It is no secret that a perfect instrument contributes to the ultimate enjoyment of any kind of music. In the case of classical/acoustic guitars, it's almost essential. While not everybody has the means to buy that "dream" instrument hand-made by a famous luthier (have you seen some of those prices lately?)... it doesn't mean that there aren't well made guitars available out there for those on a budget. Our Guitar section presents some of the most beautiful and affordable instruments available. They are manufactured by or under the supervision of famous luthiers (from Spain and Japan) and crafted from precious wood stock.


Accessories Times change, and even the classical guitar needs amplification in some performances. In case you are one of those opting for a classical/acoustic guitar equipped with pickup, the selection of the right amplifier is very important. Check the selection of affordable acoustic amplifiers. A good tuner is another must, especially if you play with other musicians.
And for those in need of quality marketing demo CDs - it's within your reach (and your computer) without having to contract a pro-studio. Check the affordable high quality microphones, multichannel mixers, recorders or virtual software recording studios.


Software Our needs include the ability to make good, accurate transcriptions of those favourite pieces that no one has yet published for us! Gone are the days of ruining the LPs playing them over and over, and the days of "reel to reel" tape decks and their distorted slow down sounds. Even if hi-tech advances provide software tools to automate the process of transcribing, those tools are not - and probably never will be - perfect. It boils down to our ability to hear the notes or not, and some tools will make this process easier. Most of them slow down the music without distortion (cassette or CD), and for the computer-savvy, there are software solutions that can do that and more.
You will also find the software combinations that will create MIDI files from your CD or tape, and as most of the notation software (MidiNotate, Finale, Encore, Guitar Finale, TabEdit or CakeWalk sequencer) can import MIDI files, your music should be ready to be printed. Well - as you will find out - almost. Do not expect perfection, and the editing can be time consuming, too. You may (as I did myself) go back to relying on your ears, with the help of slow-down software - and here the Transcribe! may be the best answer.


YouTube's Best Isn't it amazing what one can find on YouTube nowadays? The performances presented here are some of the best of brazilian guitar music available online. There are performances of professional and amateur musicians from many countries - not only native Brazilians - making their contribution to popularize brazilian guitar music all over the world. Unfortunately, the best performances by professional stars are often posted on YouTube without consideration of their publishers' copyrights - and as such they are at risk to be removed without notice by administrators of YouTube. (Therefore, leading to these videos you'll find here only clickable links and they may be just temporary)


Misc Links is exactly what it says. A selection of online resources related to our genre of music - free downloads, original midi files, sheet music, tablatures (some of the sites are in portuguese only), guitar magazines etc.
Home | Sheet Music | CD Selection | Guitars | Accessories | Software | YouTube's Best | Misc Links



Copyright ©2003-2012 GuitarInfoPlace.com. All rights reserved.